Karsten Jensen's Personal Trainer Profile
Karsten Jensen

, CPTN-CPT.M

Status:
Active
Phone (Day):
647-869-9377
Phone (Night):
647-869-9377
City:
Mississauga
Province/State:
Ontario
Country:
Canada
Education:
MSc, Bilingual (Dansk / English)
Certifications:
First Aid
CPR
C.H.E.K Practitioner L2
C.H.E.K HLC L3
YTS-BBTS
YTS-BWTS
YTS-MBS
YTS-PDSFIT
YTS-PDSEP
YTS-PDSRA
YTS-PTTS
Specialties:
Fitness Education Instruction (Lecturer / Presenter)
Personal Training (Gym)
Strength and Conditioning (Sandbags / Farmers Walk / Yoke Walk / Atlas Stones / Logs / Kegs / Ropes / Tires / Sledgehammers)
Elite Athletes Training
Sport Conditioning (Tennis / Soccer / Badminton / Wrestling)
Bodyweight Training (Calisthenics)
Functional Movement Patterns (Deadlifts / Lunges / Pushups / Planks / Squats / Walking)
High Intensity Interval Training (HIIT / High Repetitions / Muscle Exhaustive Exercises)
High Performance Breathing
Olympic Weight Lifting Training
Kettlebell Training
Speed Training (Sleds / Hurdles / Quickness)
Periodized Program Design (Long-term / Short-term Schedule Development)
International Presenter
Affiliations:
Yes To Strength (Founder), CPTN (Course Conductor), CPTN (Practical Assessor), Danish National Elite Sports Institution (Former Strength Coach), Danish Volleyball National Team (Former Strength Coach), Danish Badminton Federation (Former Strength Coach)
Web Search:
Fitness Education Instruction Mississauga, Personal Training Mississauga, Strength and Conditioning Mississauga, Elite Athletes Training Mississauga, Sport Conditioning Mississauga, Bodyweight Training Mississauga, Functional Movement Patterns Mississauga, High Intensity Interval Training Mississauga, High Performance Breathing Mississauga, Olympic Weight Lifting Training Mississauga, Kettlebell Training Mississauga, Speed Training Mississauga, Periodized Program Design Mississauga, International Presenter Mississauga
Karsten Jensen's Continuing Education Courses
Karsten has completed the following additional courses for self-improvement and to improve client training:
SWIS Exercise Muscle Testing: Lower Body, Oct. 2007 (14 Hours)
IFPA Speed Power Specialist, Jul. 2008 (7 Hours)
Karsten Jensen's Health & Fitness Reading Resources
Brandon, L. & Chek, P. (2014). The Tennis Biomechanic's Manual. C.H.E.K Institute.
Frank, W. & Dick, E. (2007). Sports Training Principles. Bloomsbury Academic.
Kramer, W. & Fleck, S. (2007). Optimizing Serious Strength Training. Human Kinetics.
Brandon, L. & Chek, P. (2001). Movement That Matters. C.H.E.K Institute.
Bompa, T. (2000). Theory and Methodology of Training for Sports (4th ed.). Human Kinetics.
Karsten Jensen's Client Interaction Photos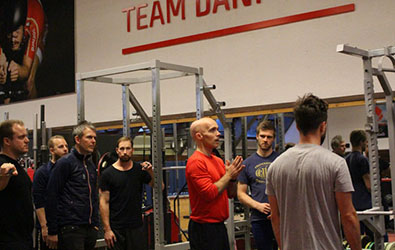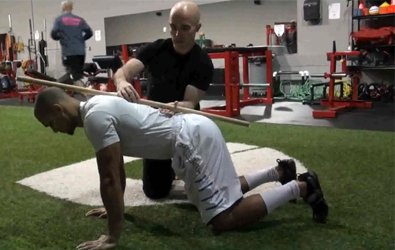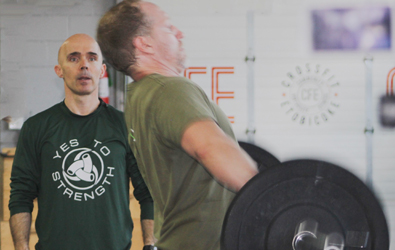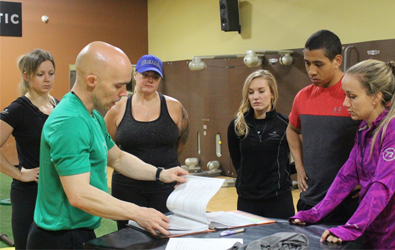 Karsten Jensen's Videos of Practical / Instruction / Demonstrations
Karsten Jensen's Awards / Media Recognition
CPTN Award of Merit in recognition for promoting Health & Fitness
Karsten Jensen's Publications
Jensen, K. (2020). Cluster Training - Part 1. IYCA.
Jensen, K. (2020). Cluster Training - Part 2. IYCA.
Jensen, K. (2020). Training Muscles vs. Movements. IYCA.
Jensen, K. (2020). Periodization as a Strategy, Not a Tactic. IYCA.
Jensen, K. (2020). #1 Predictor of Coaching Success. IYCA.
Jensen, K. (2020). Same Movement, Different Equipment. PTontheNet.
Jensen, K. (2019). How to Trouble Shoot the Bird Dog. PTontheNet.
Jensen, K. (2019). How to Integrate Bracing and Hollowing for Superior Trunk Conditioning. PTontheNet.
Jensen, K. (2014). Are Your Training Programs H.I.P?. PTontheNet.
Jensen, K. (2010). The Flexible Periodization Method. The Write Fit.
Karsten Jensen's Reviews / References / Testimonials

The Danish Badminton Federation has worked with Karsten Jensen as a Strength Coach from 2001 to 2007. Karsten was responsible for the program design and supervision of the training of the highest ranked and the most talented players. This has been very beneficial for the players and also for me as a badminton coach. Karsten has been very inspiring in his thorough professional attitude towards his work. Karsten also contributed through challenging players and coaches in all areas of strength and conditioning. I give him my highest recommendations. – Steen P.
I have met with Karsten on several occasions to consult with him regarding high performance training. He is one of the most experienced and knowledgeable strength and conditioning specialists I know, and I have learned something new from every conversation we have had. If you are a trainer or coach looking to get the edge on the competition, or want to provide better service to your clients, I highly recommend you consider working with Karsten. He also has several great training resources for both personal trainers and strength coaches. – Josh H.
As a Jiu-Jitsu competitor my goals were to be strong, explosive and have great endurance. Karsten's training programs were specific to my needs and thus I experienced marked improvements in all categories. Since 2005 Karsten has had a counselling and valued role for my strength training. – Nichole S.